13 Best Games Like PUBG Mobile For Android and iOS
I'm back with my list of Best

13

Android Games Like PUBG

(PlayerUnknown's BattleGrounds). No doubt, it was the most famous game in 2017. Games Like Player Unknown Battlegrounds For Android & iOS is the best trending game. But there are lots of

Clones of PUBG Mobile For Android/iOS Mobiles.
So, I decided to pick the best games of those PUBG Mobile Clones & here is my list of

Best 13 Android Games Like PUBG!

(Android/iOS)
Note

:
I tried all the PUBG alternatives on my OnePlus 5T, running Android 8.0 Oreo, Tecno Camon 8, Infinix Hot and iPhone 8 Plus, running iOS 11.2.1. The games ran quite smoothly and it was a really fun experience.
Top 10 Android Games Like PUBG:
1. RULES OF SURVIVAL
Rules of Survival

starts off with throwing you of a plane with only one thing as your help, a parachute. However, you are not alone, 120 other players also jump alongside you! This game is possibly the best mobile alternative to PUBG right now, and yet, despite its similarities, the game still manages to stand on its own on mobile since there aren't many battle royale games on the Android/iOS platform.
2. Survivor Royale
Survivor Royale

follows in the wake of the huge hype over the battle royale genre by being among the first few actually good, PUBG-like battle royale games to hit the mobile market. However, This game is able to accommodate up to 100 players in the same map. This includes the massive arsenal of weapons, armor, and items to find and hoard. Aside from solo mode, there are 2-player or 4-player cooperative modes that you can enjoy as well.
Mini DAYZ
The battle royale mode has garnered immense limelight since the launch of PUBG back in early 2017, but it's been around for quite some time. It all started with an ARMA mod, so

nostalgia strikes back with the Mini DAYZ game with all the retro elements

you'll need in your life. You're left to survive in a randomly generated post-apocalyptic map and scavenging for food, weapons, and other supplies to keep yourself going.

You'll not only meet AI zombies, infected with ghastly diseases, and killing them is your only option to survive. Not just that, you will also find other friendly and hostile AIs that you'll have to fight out, prevent blood loss, and keep moving ahead in a deranged world.

The best thing about this Mini DAYZ game is that it is absolutely free, with no in-app purchases of any sort.
3. Knives Out
Knives Out

(also know as Wilderness Action) it must has to be in our

Top 10 Android Games Like PUBG List

! If revive the genre of third-person action games by throwing hordes of opponents into the mix. Up to 100 online players melee on an island armed to the teeth with weapons and off-roaders set to gun down player after player. Needless to say: only one person makes it out alive!
4. Free Fire – Battlegrounds
Free Fire – Battlegrounds

is a 50-man battle royale game that is set on a remote, open-world island in the middle of nowhere. Featuring an intense and competitive, third-person survival gameplay that may remind you of PlayerUnknown's Battleground, this game will have you do whatever it takes to be the last man standing. This include scavenging buildings for weapons, ammo, and other supplies, or simply killing other players for their stuff.
5. Bullet Strike: Battlegrounds

Bullet Strike: Battlegrounds

is a promising battle royale game that you can play on your mobile devices. The game will feature everything you'd expect from a battle royale game including a massive yet gradually shrinking map to explore, tons of weapons and items to pick up, plenty of players to exchange bullets with, as well as intense and strategic PvP where the last man standing will be crowned the victor royale. Along with a specially-crafted gameplay that is designed for competitive eSports. Despite still being in beta and having some bugs to fix.
6. Vast Survival
As the name suggests, Vast Survival puts you at the center of an expansive 3D world and the only task you have is to endure the hardships and survive. The game title is

currently in alpha testing and offers you just an open world

, where you can scour for goods in rusty old towns, forests and military bases. You can also craft and build things according to your needs, but a battle royale mode is in the works right now. It'll then

pit up to 26 players in the first-person or third-person mode to use the open world to your advantage

, fight out battles and survive until the end. That's a common goal for this game style. You can expect serious lags and crashes as the game is currently in alpha, which I can confirm.

7. Last Battleground: Survival
Last Battleground: Survival is overall, is an good & playable battle royale game on android. You need to explore the island having an extensive map that guides you throughout your endeavor. Just like PUBG, you need to find many survival items and fill your backpack with all important bits and pieces to stay till the end in the game. Oh wait! That's also in

Battle Royale Game.
8. Last Survive – Chicken Dinner

Last Survive – Chicken Dinner

is perhaps one of the more innovative battle royale games on the mobile platform right now. Although its graphical direction may remind you more of Fortnite Battle Royale. One of the unique features is its optional first-person view. Resources like weapons and supplies aren't exactly hard to find in this game since these locations are usually marked on the map.
9. Exile: Battle Royale
Exile: Battle Royale

, a last-man standing survival shooter game set in an open world of deadly battles. 60 lethal competitors have been thrown into exile, and you are one of them. Your adventure begins from the moment you are dropped out of an aircraft, onto an unknown island, left to scavenge for weapons and supplies, and hunt down your fellow to win the

Mobile PUBG Clone

! Your only way out is to kill or be killed.
10. Pixel's Unknown Battle Ground
Pixel's Unknown Battle Ground

is the blocky version of a potentially fun, mobile-based

PUBG Clone battle royale game.

Despite being a work-in-progress, the game already has really impressive features such as a massive map where vehicles (and by extension, vehicular combat) become necessary, a vast arsenal of weapons to find and skins to collect, a live chatting system for team-based fights,
11. Black Survival
Adding its own flair to the much-hyped PUBG-style games,

Black Survival has now built a cult following among mobile users

. This is a fast-paced action title, where you select an anime character and are dropped on an island with 22 different areas including hospital, beach, forest among others. These locations are then locked as the battlefield narrow, so it pushed you to take charge and fight for the top spot in a roughly 20-minute game. Its

unique gameplay can be challenging for some as you will need to be quick on your feet

. The different types of characters will render you special abilities and weapons, but you'll also have to

memorize recipes that'll enable you to craft about 600 types of weapons, tools, and foods

— that's a plus for sure. Overall, it can be a crazy action-packed adventure.
12. Rules of Survival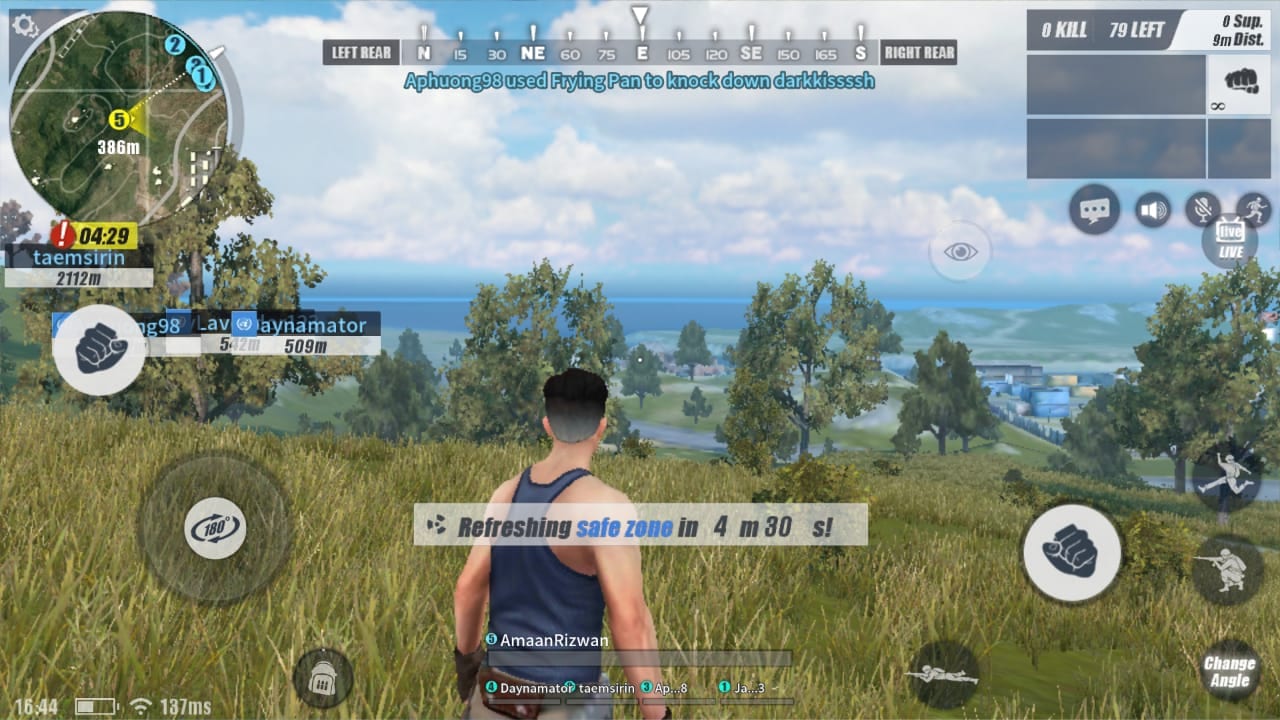 Among the prominent leaders in this segment are the Rules of Survival.

Best 13 Android Games Like PUBG List

!

The PC version of this game is fairly popular as well among the old machine users. Among the list of games like PUBG Mobile, this is the closest I could find. The game may seem like PUBG but it is fairly good on many fronts. You can customize your character according to your liking before gearing up for the game.
Before you battle against on a terrain map with a maximum of 120 players. you get a quick tutorial which trains you the intricacies of the game. The tutorial can take as long as 10minutes, which is, of course, skippable at any point in time. I wouldn't advise doing that because it is fairly intuitive and fun to learn, given the endless possibilities that you will face while playing this game on a large terrain map.
13. Free Fire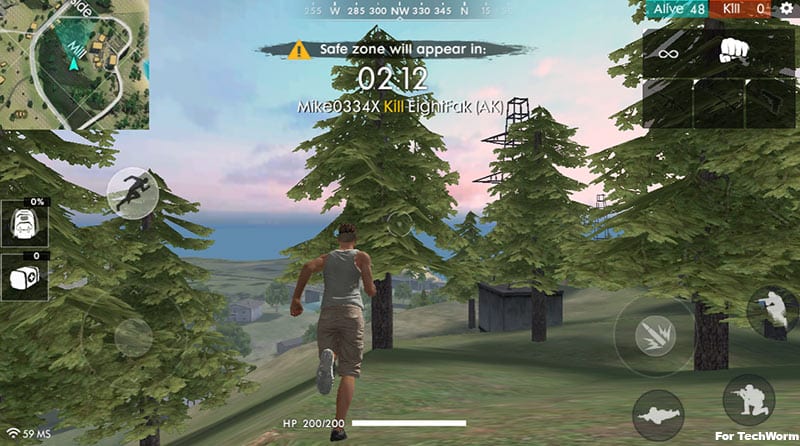 It is published by Garena, a gaming platform giant in Asia. Since 2009, they have been publishing games in different genres. This Battle Royale game is played against 49 players in a 10-minute game, which is ideal for a quick game. Short duration games are good for players who don't like camping, which is disliked by many aggressive players.
Free Fire is a game like PUBG Mobile with same the kind of gameplay and open world aesthetics. Matchmaking is pretty swift and took me around 10-12 seconds to get a match.
You get dropped from the sky with a parachute and has the option to swerve in your own direction to land. Squad size can be as big as 4 players.
The thing that will keep me engaged in this game is their "

Death Race"

mode. The mode where 2-player team squads on a vehicle, collective powerful boosters for survival before their opponents get to them.
I hope you enjoyed the list of

13 Best iOSAndroid Games Like PUBG

? Did I missed your favorite Battle Royale Game? Let us know in comments down below!
Tags: games like pubg free, games like fortnite for android, games like pubg for pc, games like pubg for mobile, games like pubg on ios, games like pubg on android, offline games like pubg for android, games like player unknown battlegrounds for android, best battle royale games for android
13 Best Games Like PUBG Mobile For Android and iOS
Reviewed by
Unknown
on
4/23/2019
Rating: